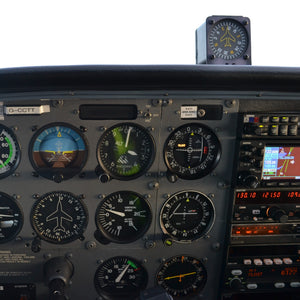 Introduction
The Instrument Meteorological Conditions Course
The IMC Course consists of a minimum of 15 hours dual flying. The basic instrument flying techniques demonstrated during the PPL will be revised and improved, introducing more advanced instrument flying skills.
This rating is designed as a 'get out of trouble' qualification and not as a replacement for the full instrument rating. This qualification is ideal for the changeable Scottish weather around Inverness and a very good introduction to flying on instruments.
Flight Training
15 hours dual instruction
Not less than 10 hours of the course must be flown with sole reference to the instruments.
Ground Study
Minimum of 20 hours of theoretical knowledge training (of which up to 15 hours may be self-study) covering:
Physiological Factors
Flight Instruments
Aeronautical Information Service
Flight Planning
Privileges of the IMC Rating
Ground Examination
A written paper consisting of 25 multi-choice questions covering the IMC theoretical knowledge training. The pass mark is 75%. The examination must be passed within 12 months preceding the date of application. It can be taken before or after the flight test.
Requirements to apply for IMC
25 hours experience as a pilot since date of application for PPL (A)
The 25 hours must include 10 hours PIC of which 5 hours must be cross country flights
IMC rating course flying (15 hours) may be included in the 25 hours experience
A Flight Radio-telephony Operators Licence
Revalidation / Renewal of the IMC
Renewal and revalidation require training if/as required and a proficiency test. The proficiency test including Limited Panel Instrument flying, Let-down and Approach procedures and Bad weather circuits.
You need to demonstrate logbook evidence showing that in the period since the previous flight Test/Check you've successfully completed a let-down and approach to DH/MDH, a go-around and a missed approach procedure, using an aid of a different type from that used during the Let-down and Approach Procedures of your initial flight test. Alternatively you may carry out two approach procedures using different aids.
Training Packages
Our aim is always to be transparent about the cost of pilot training, and we endeavour to explain the full cost upfront.  Our training packages include bulk discounts and are designed to free the buyer from the financial burden of hidden costs. 
The Instrument Meteorological Conditions course allows holders of a PPL to fly in poor weather conditions.  It is not available to LAPL holders.
The course includes 15 Hours dual flying, 15 hours ground school, written examination and approaches. This package includes full flying lessons with the minimum number of flight hours required for the qualification, but please note that student pilots may need additional practice or training to reach the required standard of the flight test.
For customers that would rather spread the cost of training, we also offer a pay-as-you-go scheme.