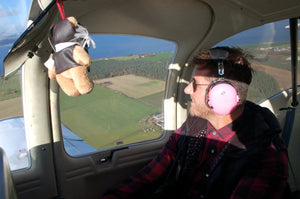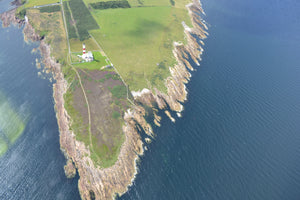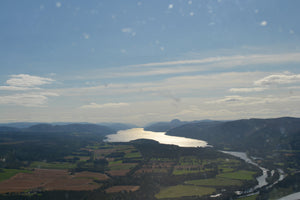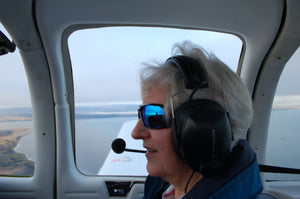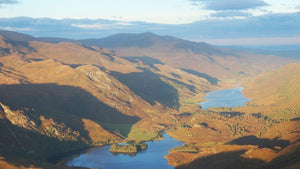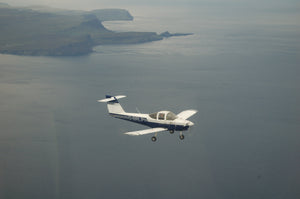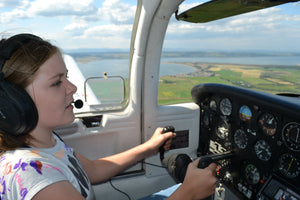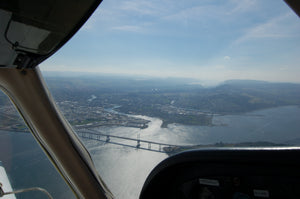 Flight experience vouchers from Highland Aviation allow you to give that special someone a truly unique gift.
Your flight experience comprises:
A warm welcome from our Operations team, with light refreshments.
A discussion with your pilot/instructor where you would like to fly, what you would like to see, and whether you would like to take the controls during the flight.
A Pre-flight safety briefing.
Walk around the aircraft with an explanation of where things are and what they do.
Taxi out to the main runway at Inverness Airport in one of our two-seat aeroplanes, and take-off.
Once airborne you have the option to take control of the aircraft or simply enjoy the view.
Throughout your flight your pilot will explain how the aircraft works and will answer any questions you might have.
Choose Your Flight Duration:
The following map gives an outline of the likely distances you might want to travel during your flight.  Please read the notes below the map for a fuller explanation.
The time lines show the likely limit of the distances you can travel, and return to the airport in the time allowed.  If you would like to meander around in a particular area, you might consider booking a little extra flight time.
Flight vouchers can be upgraded to longer flight durations at any time before your booking slot is finalised. Often due to scheduling, this may not be possible on the day.
20 Minute Aeroplane Flight:  See Fort George, the Moray Firth Coastline, the Black Isle, and Inverness City.  Then return to Inverness Airport
30 Minute Aeroplane Flight:  All the above, plus see the local mountains, Loch Ness and Urquhart Castle, or perhaps the Fyrish Monument, Easter Ross or the beautiful Dornoch Firth.
45 Minute Aeroplane Flight:  Head into the mountains around Ben Wyvis, or the full length of Loch Ness to Fort Augustus for some Nessie spotting?
60 Minute Aeroplane Flight:  Tour the Cairngorm Mountains, or meander around the local area taking in all the unspoiled landscape and all local sights above.  Alternatively take to the flight controls with one of our Instructors and try Lesson 1 of the Private Pilot's Licence.
90 Minute Aeroplane Flight:  Fly the length of the Great Glen to Fort William, Ben Nevis and the Glenfinnan Viaduct (Harry Potter Railway Bridge), or head West through the breath-taking mountain range to the stunning Bays around Ullapool.
120 Minute Aeroplane Flight:  For the ultimate Highland Explorer, through mountain ranges and over lochs, head West to take in the sights of the Isle of Skye, or Oban and the Inner Hebrides to the South-West, or the Orkneys to the North.
Your pilot/instructor will ask you if you have an itinerary in mind.  If not, don't worry, they know the local area like the back of their hand.  Just sit back, relax, and enjoy your flight.
Occasionally weather conditions may prevent us from flying to particular areas, or may slow our progress.  But rest assured our professional pilots will do whatever they can to satisfy your requirements whilst at all times prioritising flight safety.
Frequently Asked Questions:
Q:  What should I bring with me on the day of my flying lesson?
A:  Sunglasses, comfortable clothes and a single form of identification (passport, driving licence etc). Under 18's must be accompanied by a parent / guardian with ID.
Q:  When should I arrive?
A:  You do not need to arrive too early, around 10-15 minutes before your scheduled flight would be perfect!  This should allow you enough time to complete the paperwork and enjoy a hot drink in our lounge area before meeting your pilot/instructor.
Q:  How long will my flight experience take in total?
A:  Your experience will take 30 minutes plus your flight time. For example, a 60-minute flight will take around 90 minutes.
Q:  Where can we park and how much does parking cost?
A: We have a car park at our premises directly opposite our building and for you it's completely FREE!  However, space is limited so please only bring one vehicle where possible.
Q:  How long is my voucher valid for?
A:  As standard all vouchers are valid for 6 months from the date of purchase.  We can optionally allow the validity to start up to two months post-purchase if intended to be gifted on a special day.
Q:  Can I extend the date on my voucher?
A:  Vouchers may be extended only once for an additional 6 months at an additional cost of 20% of the voucher value.
Q:  If it's raining or very windy on the day of my flying lesson what should I do?
A:  If the weather is not fit for flying we will try to call you as soon as we are able.  If we haven't already called you, or you are travelling from a distance, please give our reception staff a confirmation call on 01667460361.  We always keep a very close eye on the weather and will do our best to make sure you know well in advance if we need to postpone your flight.  Please note that under these circumstances your voucher expiry date will be automatically extended.
Q:  Can I get a memento of my flight experience?
A:  We have a small merchandise shop with various products to remind you of your special day.
Q:  What can my friends/family do whilst I'm flying?
A: We have a comfortable lounge where accompanying guests are welcome to wait with a lovely view of the runway and airport.  Hot drinks are freely available whilst you watch the aircraft taking off and landing.  The main airport terminal is a 5 minute walk away and offers a restaurant, newsagents, and gift shops.